Wedding Helicopter Hire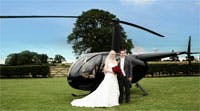 PrivateFly is often asked about wedding helicopter charters. The most popular choices are often to take couples from a private house to a church, from a church to a reception or to depart the reception for a hotel in the evening.

Many hotels and reception venues have helipads available or open space nearby, and PrivateFly can always recommend the most suitable helicopter type and landing location for your requirements.
PrivateFly's wedding helicopter service starts at £1,650 plus VAT for daytime flights in locations in the South East of the UK*, and £1,650 plus VAT for the rest of England and Wales.
Helicopter hire prices depend on the location of your landing and departure points, landing costs, flight duration, size of the helicopter and the time of the flight. For helicopter flight prices, landing site advice and real-time availability contact us or call PrivateFly on +44 (0)20 7315 4442.
For instant private jet charter estimate prices use our online flight search: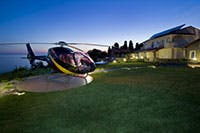 This would include:

Up to 4 passengers
Up to 30 minutes flying between 2 locations
A bottle of Champagne on board
*For flights over 30 minutes, or for locations outside of England and Wales, or flights at night, prices would start at £2,100 plus VAT (or local equivalent tax) per hour's charter.
Honeymoon Flights
PrivateFly also offers a bespoke service for private jet charter, for private flights to or from your honeymoon or helicopter hire worldwide. For further information please contact us or search for a flight online: